For the past two weeks, the pictures and videos of a doctor who dresses like amaphantsula singers have gone viral on the internet. People have been expressing mixed feelings about the manner in which the doctor presents himself.
In some of the pictures,
In another video, he appears with a speaker dancing to some music. Dr Qwabe operates in the Newcastle area in KwaZulu Natal.
Fellow medical doctor Dr Tlaleng Mofokeng said people must leave the Qwabe alone.
is it possible to leave that doctor alone???

— Dr Tlaleng Mofokeng (@drtlaleng) March 5, 2023
Another Twitter user Lona Mbeki said : "I already saw a few people alleging that his conduct is "unprofessional" blah blah blah. My worry is these ridiculous thoughts/concerns being taken to HPCSA as some suggested and the next thing we know the good Dr is in hot water," she said.
Another Twitter nanagirl said: "Eyi nami ngiyavuma. I am so hurt by the hate this guy is getting. Izinhliziyo zabantu lana ziyangikhubaza shame. I then get hurt by the fact that we as black people will never, ever, Not look down on each other. We will never want the best for each other. I am so disappointed," she said.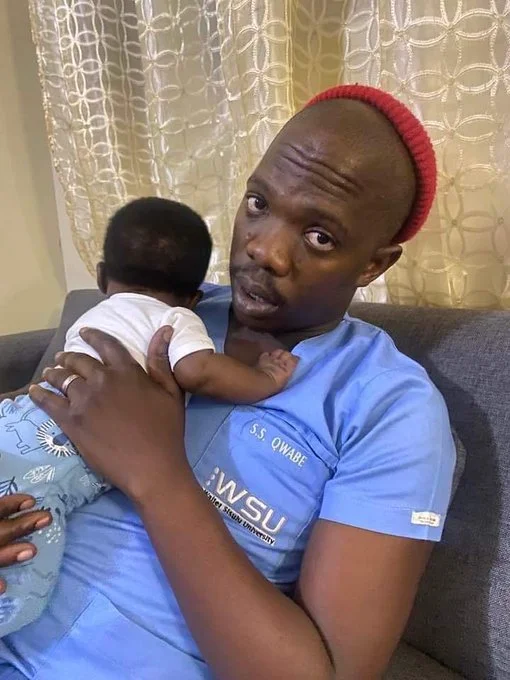 One critic Ronny Mhlanga said he suspects the doctor was smart at school. "I'm not judging but if this guy is a professional Doctor I bet he finished his qualification after 10 years with a couple of fails, re-writes and threatening lectures," he said. https://twitter.com/RonnyMhlanga/status/1631898415108964352?s=20
Lebo Mdhuli believes that dressing can be leading and people must not judge other based on their dressing. "You people are scammed daily by people wearing suites and shit, just because you assume there's a certain dress code for educated or knowledgeable people. Dr. Qwabe is breaking the stereotype and changing the narrative," she said.
You people are scammed daily by people wearing suites and shit, just because you assume there's a certain dress code for educated or knowledgeable people. Dr. Qwabe is breaking the stereotype and changing the narrative. pic.twitter.com/01YCrH9t7E

— Lebo Pat Mdluli (@PatMdluli) March 5, 2023
Watch
Medical officer Dr Sandile Qwabe from NewCastle. pic.twitter.com/4EkJKiI48e

— Man's NOT Barry Roux  (@AdvoBarryRoux) March 2, 2023
Watch Dr Qwabe dancing
Dr Sandile Qwabe. (MBBCh)
Bachelor of Medicine, Bachelor of Surgery. pic.twitter.com/eswLa4f15m

— Africa Research Desk 📚📁 (@MightiJamie) March 5, 2023